Katy specialises in fish out of water biopics featuring vivid stories of freedom, responsibility and personal potential.
For all enquiries please visit the Contact page.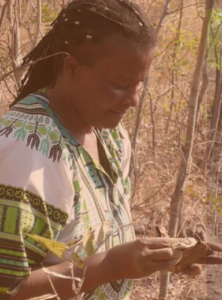 Tererai: The Girl Who Buried Her Dreams
Katy has written her latest screenplay "Tererai - The Girl Who Buried Her Dreams", the biopic of author, speaker, scholar and humanitarian Dr Tererai Trent. Dr Trent is the author of the book 'The Awakened Woman', international voice for quality education and women's empowerment and is distinguished as Oprah Winfrey's all time favourite guest.
Tererai grows up in a poor Rhodesian village in the early 1970s, her childhood innocence is denied as she struggles against a backdrop of civil war that's tearing the country apart.
Her fate seems bound to an unjust colonial system of governance that had oppressed and denied her people's dignity and sources of livelihood for many decades. The interlocking combination of the Rhodesian's oppressive regime with the existing norms of patriarchy becomes a volatile powder keg for many women and girls, ultimately entrenching Tererai in a generational cycle of childhood marriage and domestic abuse.
Despite succumbing to a childhood marriage, teenage motherhood and burying a child, Tererai dreams of a better life, one of opportunity and hope. Inspired by her newly independent country, and an unlikely charity worker named Jo Luck who visited her village with words of encouragement "Tinogona – it's achievable" make Tererai determined that against all odds her education will prevail.
With encouragement from her mother and the desire to change the trajectory of her life, Tererai wrote down her dreams for an education on an old scrap of paper and sealed the list in an old tin can and buried it under a rock. Tererai must find the courage to hold on to her dreams under extreme circumstances.
Persistence pays off and she finally finds herself on her way to study in America. Life in America is tough and money is short but Tererai never gives up. Whilst Tererai had a humble dream of achieving an education, the universe was conspiring to take her on a journey with a much bigger mission.